As Nigerians continue to protest nationwide against police brutality, here's how you can help
[ad_1]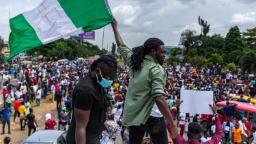 Roads in major cities across the country have been blocked and cities brought close to a standstill as protesters enter day eight of demonstrations across more than 100 cities across the country.
At least 10 people have been killed
, according to Amnesty and scores more injured as police in some states fired live ammunition, teargas and used water cannons on protesters.
Solidarity protests have also happened in London, Washington, Toronto and other countries around the world.
The government has responded and said it has disbanded the SARS and replaced with a new tactical team known as Special Weapons and Tactics (SWAT), however it has not ended the heavy handed policing as
at least 10 people have been killed
by the country's police during protests.
Some are calling for the Inspector General of Police to resign and those protesting say their demands have not been met.
As protests continue, here's how people in the country are coordinating to make the movement work efficiently and how you can help.
Volunteer your time and skills
So far, emergency medical teams, pro bono lawyers, and mental health support have been provided on ground to help protesters as needed.
Businesses in the catering sector and private individuals have provided full meals, snacks and water to keep protesters at all points in the country sustained as they call on the government to reform the police and end SARS. Private individuals have also donated water and food parcels to the protest sites.
Stay informed and speak out
Through the original #EndSARS hashtag, Nigerians on social media have been able to call the attention of the world to what is going on in the West African country.
Many hashtag variations of the same message to end police brutality, have trended daily for the past one week, thanks to the people pushing the message nonstop online.
And to keep these online protests alive, free internet data is being provided to keep online protesters connected.
Donate funds
Crowdfunding options have been set up to provide food, health and legal services, security and other assistance to protesters.
Through the crowdfunding support, lawyers have been dispatched to release protesters detained by police, medical bills of those hurt have been covered, food as well as other items of convenience have been provided to protesters. Private security has also been arranged for protesters around the country following spate of attacks by the police and armed youth brandishing machetes and sticks.
Join prayer walks


[ad_2]

SOURCE NEWS