BBC – Travel – Where bananas are considered sacred
[ad_1]

A decade ago when I was newly married, I stopped by a roadside fruit stall in the South Indian town of Nagercoil near my in-law's home to pick up some bananas for a religious ceremony. I gawked at the bunches of this nutraceutical fruit, ranging from the usual shades of yellow to varying hues of red and purple. They hung upended on hooks from the stand's tinned roof as if they were prized possessions.
There were some 12 to 15 varieties, each with a distinct name and purpose
Each bunch was tagged with a local variety name – poovan, chevvazhai, matti pazzham and so on. I had never seen such a multitude of banana varieties in all my years growing up in Hyderabad, the capital of India's Telangana state, around 1,200km north of Nagercoil. I just knew the modest banana simply as aratipandu in the Telugu language (and vaazhaipazham in Tamil and kela in Hindi). But here in Nagercoil, there were some 12 to 15 varieties, each with a distinct name and purpose. Suddenly, life seemed simpler before marriage, as I got indoctrinated into the land of bananas.
The banana has been India's most versatile and revered fruit from time immemorial. Owing to its nativity, perennial abundance and affordability, it's the go-to fruit for nearly every occasion, and the banana tree in its entirety is deeply woven into the country's cultural fabric. While indigenous varieties are cultivated in home gardens across India, they grow profusely both domestically and wild in places like Nagercoil, largely due to the warm and humid tropical climate and fertile, loamy soil conditions found in regions abutting the Western Ghats in South India.
The banana is believed to be one of the world's earliest and most cultivated fruits and has travelled far and wide from its humble origins in India and South-East Asia. Today, it's one of the world's most-consumed fruits, and even during these pandemic times, comforting and easy-to-make banana bread has been trending on Google searches around the world.
Historical records mention that Alexander the Great was impressed with the exotic taste of the kadali phalam (the Sanskrit name for the banana) and carried the fruit from India to the Middle East, where it was rechristened as banan (an Arabic word for finger) by Arab traders. It later reached Africa, Latin America and the Caribbean during the 15th Century, and then headed north to Bermuda. From Bermuda, bananas were shipped to England as novelty fruits during the 17th and 18th Centuries. And in 1835, head gardener of Chatsworth Estate in Derbyshire, Joseph Paxton, cultivated and grew a new yellow variety and named it musa cavendishii, after the family name of his employer, William Cavendish.
The banana is considered a remedy for all ills, physical and spiritual
In spite of its relatively small size and somewhat bland taste when compared to other varieties, the Cavendish's uniformity, resistance to disease and high yielding capacity has made it the darling variety of the Western world. In India, the high-yielding G9 Cavendish variety (from Israel) is now produced commercially across the country; however, native banana varieties – and their plantain cousins – are still cultivated, mainly in India's southernmost parts. Locals often sing the praise of varieties like poovan, mondan and peyan (named after the holy Hindu trinity of Brahma, Vishnu and Shiva respectively) for their versatility, flavour and texture. 
You may also be interested in:
• Dosa: India's wholesome fast food obsession
• What is "real" Indian food?
• India's original turmeric latte
In India, the banana is considered a remedy for all ills, physical and spiritual. As a child, the slimy, pithy texture of the fruit when ripe had never appealed to me. Yet I remember swallowing banana chunks as my mother pleaded with me to eat them as an immune-booster after a bout of jaundice, and my grandmother cajoled me into devouring them as a prasadam (divine offering) after religious ceremonies.
Today, bananas are widely thought to have many health benefits – a ripened banana is laden with potassium, calcium, vitamin B6 and vitamin C, and is a rich source of carbohydrates and fibre. However, in India, they have been valued medicinally for thousands of years. The banana tree is considered sacred and every part of it is used, be it the fruit for eating or the leaf, flower and bark in medicinal treatments.
"A ripe banana is kapha predominant [having the life force elements of water and earth] and is used in treating several skin disorders in Ayurveda," said Dr Sreelakshmi, senior Ayurveda consultant at Naad Wellness in Delhi.
Also, in Ayurveda, the banana flower and stem are used to treat diabetes, and the tree's sap (which has astringent properties) is used for ailments such as leprosy and epilepsy as well as for insect bites. And as Sreelakshmi explained, psychosomatic disorders such as hypertension and insomnia are treated by a therapy called thalapothichil in which the head is covered in a medicinal paste and then wrapped with a banana leaf, which is thought to have a calming effect.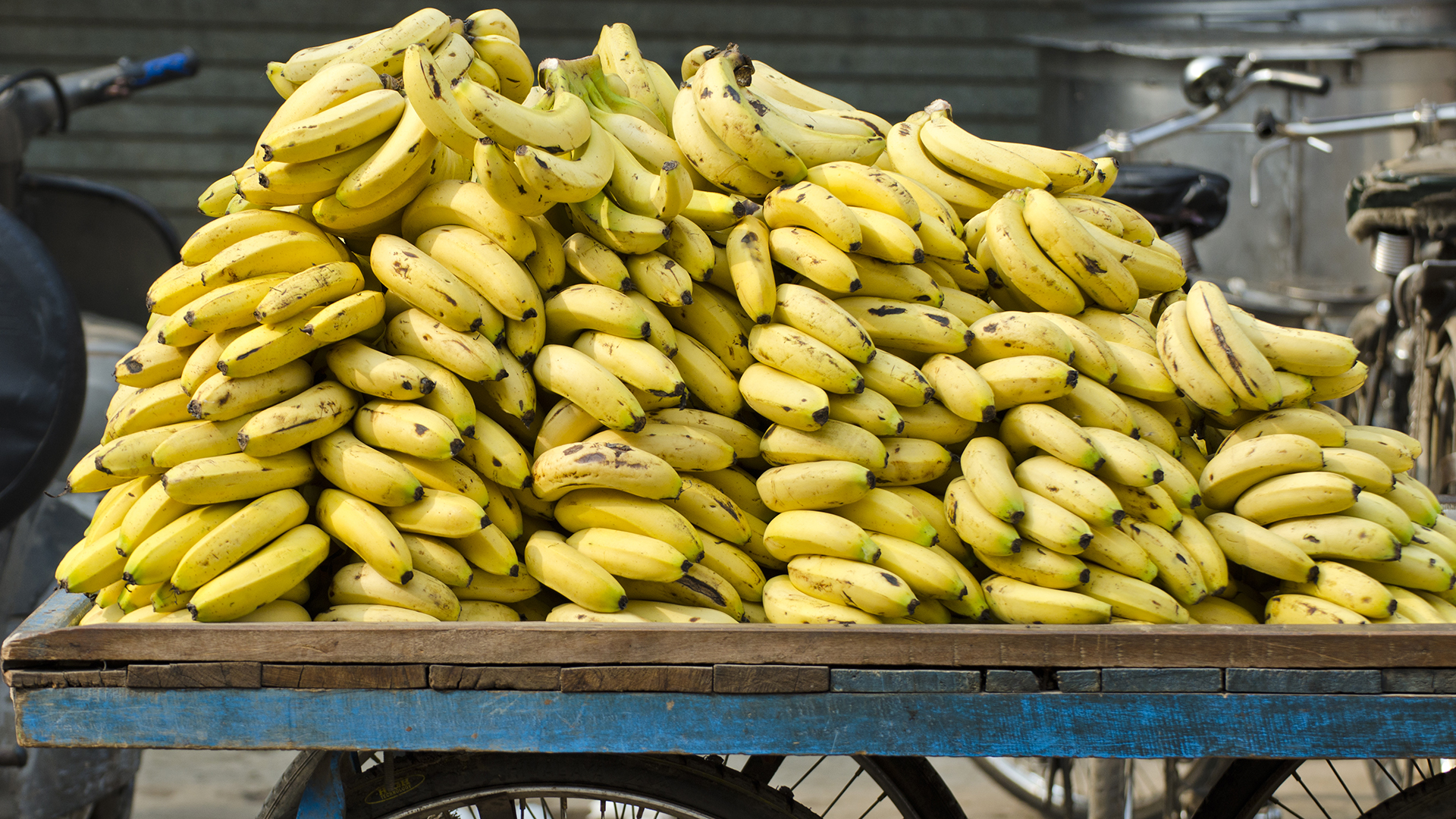 The banana is given the status of a tree though it's technically an herb that produces berries (botanically speaking) that are generally referred to as fruits.
The banana is also the only fruit mentioned in the Pali canon (scriptures central to the Theravada school of Buddhism), the Vedas and the Bhagavad Gita, and forms the triad of fruits, along with mango and jackfruit, called mukkani in Tamil Sangam literature. In Hinduism, the banana tree is equated with Lord Brihaspati (Jupiter), who is considered a guru to the Hindu pantheon. 
The banana tree is also associated with fertility and bounty. Hence, in South India, a pair of banana trees with flowering branches is placed on either side of the entrance to a home or venue during weddings, religious festivals and other special occasions. In Bengal, during the Durga Pujo festival, a figurine symbolising goddess Durga (the Hindu goddess of war and feminine energy) is made with a banana plant, draped in a yellow saree with a red border. This form of the goddess is known as Kola Bou, where kola means "banana" and bou means "lady" in Bengali.
When it comes to eating bananas in India, there are many options, whether ripened or raw, to choose from. Varieties like the easily digestible matti pazzham are used as baby food, while others like nendran and rasthali, due to their longer shelf life and lower water content, are used in both traditional and contemporary Indian dishes.
"We call the banana 'kele' in Konkani [a language spoken in the Konkan region along the Western Ghats], and it's a staple in our traditional Konkani cuisine," said Shantala Nayak Shenoy, who writes a food blog called The Love of Spice. "I often enjoy preparing kele upkari [a mildly flavoured raw banana stir fry] and kele koddel [a spicy coconut-based curry] to using delicious ripe bananas for making crispy kele phodi [gram flour battered fritters] and kele halvo [a sweet treat using ripe bananas and semolina]. There is a way to indulge most palates and taste buds with a banana."
According to Chef Partner Vignesh Ramachandran of Once Upon a Time restaurant in Hyderabad, "We use marinated and grilled raw banana slivers instead of fish in saiva meen kuzhambu, a vegetarian interpretation of the meen kuzhambu [fish curry] dish. This raw banana floats in the curry and mimics a fish as in the original dish."
Just when I thought I knew all the ways bananas are used in India, I met Sekar C, a weaver from Anakaputhur on the outskirts of Chennai, who makes eco-friendly sarees out of banana waste and natural banana fibre. He leads a team of around 100 women, who have been weaving a blend of cotton and banana fibre sarees for years.
Raw or ripened, fruit or flower, Cavendish or poovan, Indians are spoilt for choice when it comes to the humble and versatile banana. And the more one explores this country where it is considered sacred, the more surprises it throws.
Back in Nagercoil, the land of bananas, I now no longer gawk, but confidently choose the rasakadali or matti pazham, which are considered auspicious, for religious purposes. I also  often buy delectable nendran chips by the kilo to eat as a snack. Each bite tells the story of this town and its banana legacy. 
Join more than three million BBC Travel fans by liking us on Facebook, or follow us on Twitter and Instagram.
If you liked this story, sign up for the weekly bbc.com features newsletter called "The Essentia List". A handpicked selection of stories from BBC Future, Culture, Worklife and Travel, delivered to your inbox every Friday.


[ad_2]

SOURCE NEWS