NASCAR Cup round at Texas postponed to Monday following rain – NASCAR
[ad_1]

The NASCAR Cup Series playoff race at Texas has been postponed until Monday following persistent rain that left cars able to run only 45 racing laps.
Scheduled for 334 laps around the 1.5-mile circuit, the second round of the semi-final segment of the Playoffs ran green until the caution was thrown on lap 45 for light mist and rain falling.
The cars then pitted under the safety car, which continued to tour for another seven laps in the hope that the race could be swiftly restarted, but on lap 52, NASCAR officials elected to throw the red flags.
Nearly four hours later, series chiefs announced that the race would be postponed until 10am ET on Monday (2pm GMT).
In the racing that was possible, regular season champion Kevin Harvick was comfortable in the lead in his Stewart-Haas Racing entry, although he dropped to second place, behind Alex Bowman, who took fuel only at the competition caution stops on Lap 21.
However, on Lap 29, Harvick, who had regained the lead, slithered wide at Turn 2 and whacked the barrier with the rear-left of his Ford Mustang.
Harvick told his team over the radio that "the steering wheel isn't bent" and that after repairs to the bodywork of his the #4, he would be "fine" to continue.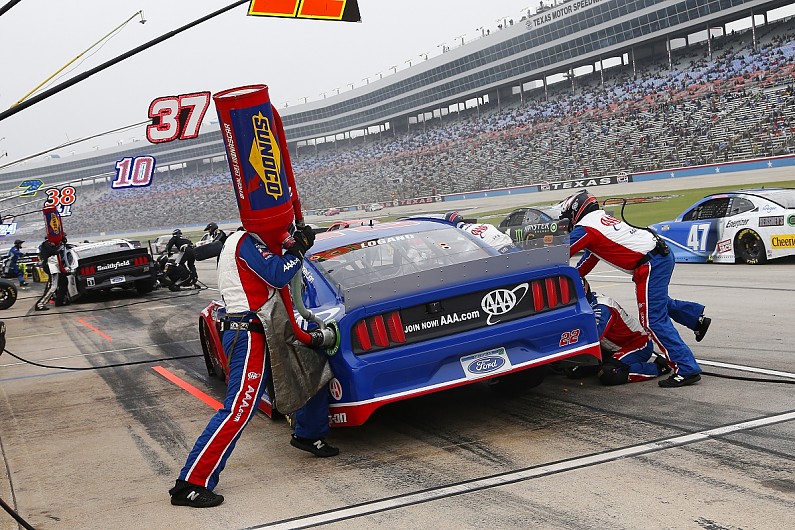 This left Bowman in the lead until the caution flags flew for the persistent rain, but under the flurry of stops that occurred Bowman's Hendrick Motorsports crew fitted him with four fresh Goodyear tyres, dropping the #88 to 18th place.
Clint Bowyer cycled to the lead for SHR, as the retiring driver of the #14 took only fuel aboard his Mustang, with Jimmie Johnson, Erik Jones, Joey Logano also taking fuel only, with Bowyer set to lead the field to green when the race resumes.
Martin Truex Jr, by virtue of taking two tyres only at these stops will restart fifth, the #19 Joe Gibbs Racing driver recovering from being sent to the rear of the field.
In pre-race inspection, the rear spoiler of Truex's Toyota Camry was found to be illegal under section 20.4.12.b of the NASCAR rules which states that "except as specified, spoilers must be used exactly as supplied from the manufacturer."
Along with being sent to the rear on the formation laps, Truex was slapped with a 20-point deduction in the standings, had the offending wing confiscated and had crew chief James Small ejected. The #19 team was also fined $35,000 for their troubles.
Truex's JGR team-mate Denny Hamlin will resume in 15th, having a had big moment through Turn 1 on the competition caution restart, sliding high, but narrowly avoiding the wall, just before Harvick, who himself will take the restart in a lapped 36th, hit it.
[ad_2]

SOURCE NEWS