Hamilton: "Deserved" Perez move will make Red Bull F1 challenge stronger | F1 News
[ad_1]

Lewis Hamilton says Sergio Perez "truly deserved" a move to Red Bull, and relishes the challenge of fighting both he and Max Verstappen in Formula 1 next year.
Perez was installed as Alex Albon's replacement at Red Bull for next year on a one-year deal, with the Anglo-Thai driver handed a test and reserve role after a season and a half racing for the team.
Hamilton likened the scenario to his past seasons at McLaren, in which team-mate Heikki Kovalainen was rarely able to support his battle with the Ferrari drivers.
TOP 50: Autosport's best drivers of 2020
The value of a second strong car was seen in Abu Dhabi, where Alex Albon was close enough to limit the strategy options of the two Mercedes drivers, and Verstappen won the race.
"With all due respect to Alex, in the races that we've had, it's been me and Valtteri [Bottas] against Max," said Hamilton.
"Now I've been in the position that Max is in, where once, particularly when I was at McLaren, where I was the lead car, and then the second car wasn't in the fight.
"So when were fighting against Ferrari, they could really move around with the strategy, and make it a lot harder for us.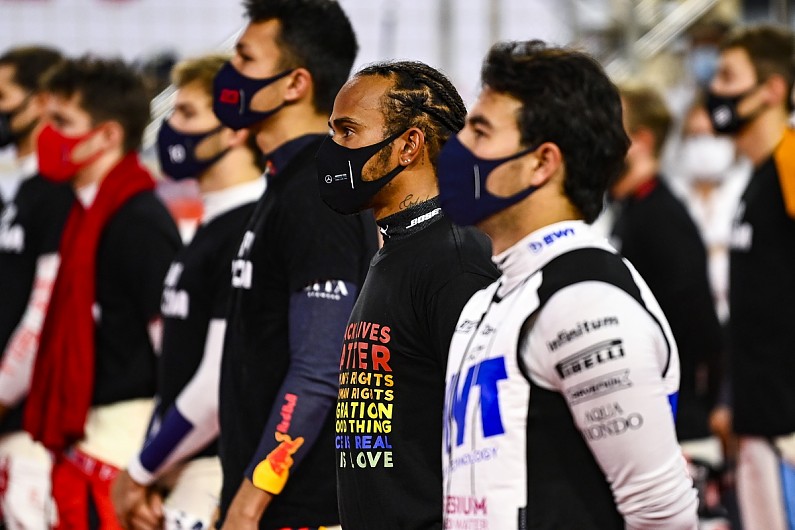 "I think naturally, this makes Red Bull stronger, particularly with the way Sergio is performing.
"Sergio has driven incredibly well this year, and truly deserved a drive, so I was so happy to hear that he's been taken on by one of the top teams, and given this opportunity.
"I think it's going to be an exciting battle to watch him up against Max. And that's going to make it much harder for us as a team.
"So we're going to have to really step up our game, because that's going to be a battle we've not seen for some time, in terms of having the two drivers there, fighting against us.
"But we relish that as a team, that's what we work towards. We love the challenge, and it's gonna make it that much more exciting."
Bottas was also pleased to see the Mexican land a seat, and echoed his team-mate's comments that competition with Red Bull could be more difficult in 2021.
"Definitely really happy for Sergio, I think he deserves a seat in F1." he said. "And now he's in one of the top teams, so that's good news.
"I have a feeling the competition with Red Bull will be maybe a bit tougher, but it's only speculating at this point. I guess we'll see as we go for next year. But it should be interesting."
The Autosport 70 special, celebrating the best of motorsport, is no longer available to buy online, but is available to new magazine subscribers. To subscribe, please go to: autosportmedia.com
[ad_2]

SOURCE NEWS