BBC – Travel – Kolomna: The Russian town built by apple sweets
[ad_1]

Women in crinolines and bonnets, carrying trays loaded with treats and dainty teacups, weave their way between white cast-iron tables beneath the boughs of old fruit trees. People chat and enjoy the sunshine as it glints off the golden onion domes of the neighbouring church, while steam from a samovar swirls gently into the air. Along with these other visitors, I came here for a little taste of history.
50 Reasons to Love the World – 2021
Why do you love the world?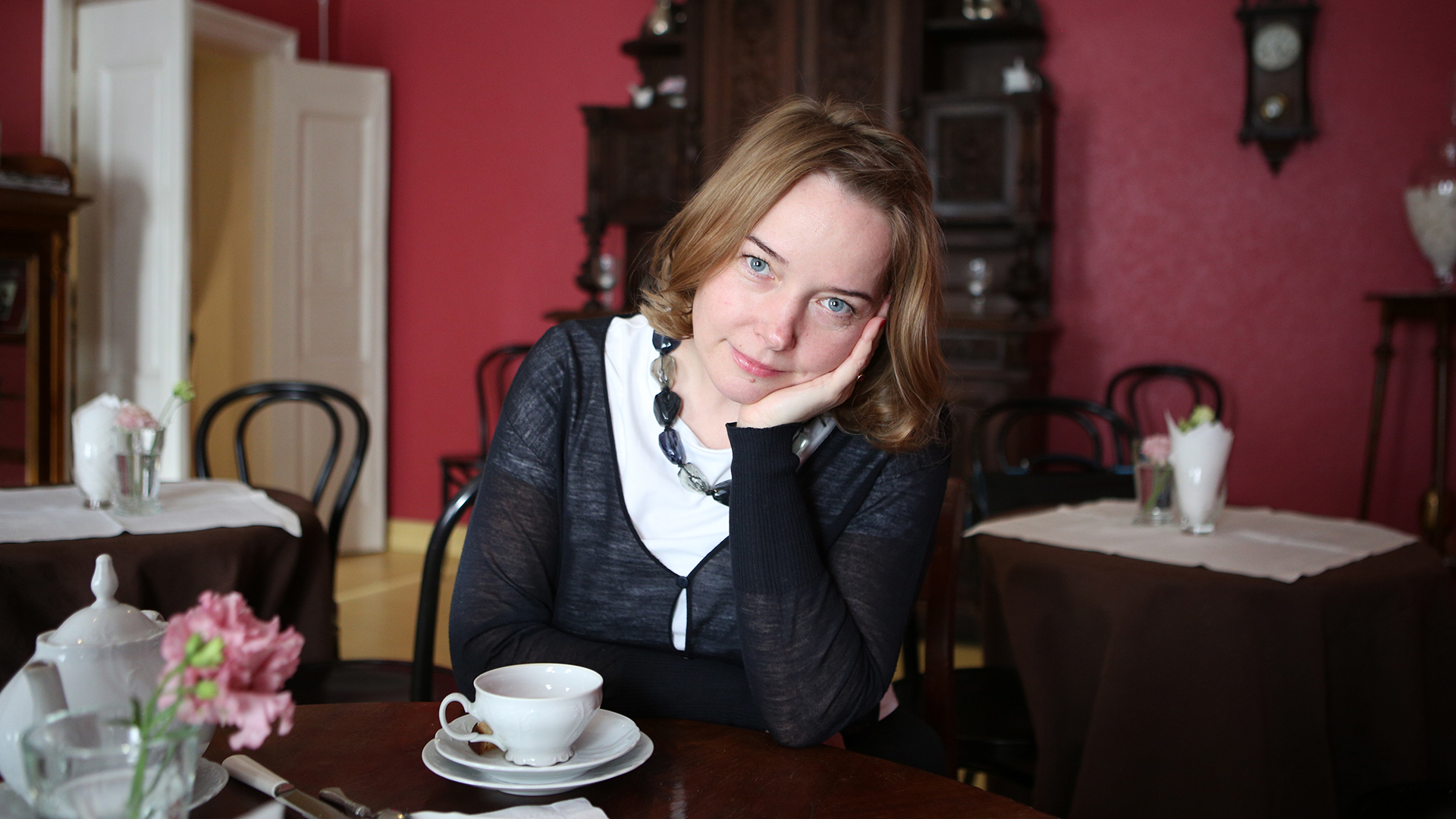 "Because everything around me – the river, the cathedrals, the beautiful views – breathes history. Kolomna, Russia, has learned to live with its heritage; this gives us our love and our passion for what we do." – Natalia Nikitina, entrepreneur
The setting for this garden cafe is the medieval town of Kolomna, which lies 113km south-east of Moscow in a picturesque location at the confluence of three rivers. Kolomna has been renowned for its gardens and orchards since the 15th Century. In spring, a froth of apple and cherry blossom spills over into the streets from behind pastel-painted wooden palisades – a short-lived but spectacular display. Fruit has always been grown here, and it is no accident that the name of this town has become synonymous with an apple-based delicacy: pastila.
Pastila, pronounced with the stress on the final "a", was first mentioned in the 16th-Century Russian Domostroi (Domestic Order), a codex of household rules and instructions on various religious, social and domestic matters. Originally developed as a means of preserving the apple harvest and providing a sweet treat throughout the winter months, it has nothing to do with the French pastille (another kind of sweet); instead, its name comes from the Russian verb postelit' (to lay out).
Pastila is often equated with marshmallow, but this comparison does not do justice to its uniquely ethereal quality. It is made by baking apples until they are soft, then blending them into a purée before whipping them "into clouds" with egg whites and sugar. The mixture is spread out onto trays to a depth of about 2cm, then dried in a cool oven before being cut into strips or shapes. It's an entirely natural product made exclusively from fresh ingredients; no starches, additives, colourings or preservatives are used, and it is low in calories. Pastila production requires firm, sour apple varieties – Russia's famous Antonovka is the most suitable, being richer in pectin (a natural gelling agent) than other varieties.
It was in Kolomna, with its abundance of apple orchards, that the finest, fluffiest version is said to have been made. As an unknown source once proclaimed, "they have turned apples into clouds!". From 1862, when the town became connected to Moscow via rail link, the reputation of Kolomna pastila spread across Russia and the product was sold in Moscow, St Petersburg and beyond. It continued to be manufactured in the town until 1914, when war and revolution put paid to the industry. From that year on, pastila became a forgotten taste and the town slipped into decline. Many of the town's beautiful old buildings were left to decay, and Kolomna's lack of inclusion in Russia's Golden Ring tourist route meant no visitors came to spend their money there.
But recently, all of that has been changing thanks largely to the efforts of some inventive and resourceful women.
You may also be interested in:
• Why food memories are so powerful
• Russia's beloved healing ritual
• How to drink vodka like a Russian
The story of the town's revival goes back to 2008, when Kolomna hosted the European Speed Skating Championships. Tasked by the town council with creating a souvenir gift for visitors and competitors, council project manager Natalia Nikitina looked into the town's history to come up with a gift specific to Kolomna.
For inspiration, she turned to the 18th-Century works of Ivan Lazhechnikov, the son of a rich Kolomna merchant. Reading his historical novel, The Ice Palace, Nikitina a was intrigued when she found a reference to a sweet treat called pastila. Together with her friend Elena Dimitrieva (who had a financial background in the construction industry) she started to research it.
The Russian State Library turned up several recipes from its archives, all of them involving oven-baked apples, beaten egg whites and honey or sugar. But they were too vague to be useful. One example came from the notebooks of Tolstoy's wife Sofia, who wrote: "Put the apples in a cooling oven after baking bread" – but for how long, and at what temperature?
It kept splattering everywhere when we whipped it – it took us hours to clean it from the walls!
The women realised there was no option but to attempt their own experiments. Nikitina cheerfully describes their early efforts: "It kept splattering everywhere when we whipped it – it took us hours to clean it from the walls!" she said. But with patience and much experimentation, they finally came up with a satisfactory formula for baking, whipping and drying the mixture. 
Having successfully created their product, the women needed to find a suitable manufacturer to produce the pastila at scale. They approached seven confectionery firms within a radius of 100km, but none were able or willing to adapt their equipment. Undeterred, they simply set up their own factory in premises leased from the council, commissioning specially designed equipment based on archive sketches of old machinery.
Further research led to the discovery of some original packaging and labels, which the women used as templates for their own packaging. Armed with Dimitrieva's business experience, they sourced their own paper and card, and set up a packaging production line.
As work progressed, their research at the State Library continued to uncover anecdotes and diary entries associating pastila with Catherine the Great, Pushkin, Tolstoy and Dostoevsky, among other famous people and events. Dostoevsky, they learned, enjoyed the sweet treats with his cup of tea; his wife wrote that he particularly loved his strips of red and white pastila (the red variety would likely have been flavoured with raspberry or redcurrant).
Nikitina also found references to different flavours and textures of pastila and set about both recreating them and developing new ones. They now produce dozens of varieties, including the fluffy "white-foam" type; dense strips of smokva (fruit leather); pretty layer cakes with pink icing; airy zefirs (similar to marshmallows); and pastila with additional natural flavours such as apricot, raspberry, cherry and plum. Perhaps the most desirable variety is muftovaya, named after the soft muffs worn by aristocratic women to keep their hands warm; it's made by adding the egg whites to the apple puree while it is still hot, and beating for at least 10 hours, which makes it even airier than the usual varieties.
(And what did they do with all those egg yolks that weren't required in the pastila? Ever resourceful, the women decided to use them by manufacturing traditional lapsha, or noodles).
Nikitina, whose creative vision drove the enterprise, sensed that people wanted not just to taste the product, but to understand its heritage. With a grant from the philanthropic Potanin Foundation and support from the town council, in 2009 the Museum of Forgotten Flavours was born – Russia's first living museum, designed for people to taste pastila in the place it was originally made and enjoy learning about it from actors wearing 19th-Century costume. The charming garden café at the museum is where I experienced these treats. "This is a new kind of museum for Russia," said Nikitina. "We're preserving and presenting our intangible heritage, something ephemeral and elusive – tastes, smells, the culture of everyday living, a manner of talking."
Nikitina knows she has revived something very special. "Pastila is natural and tasty, it looks beautiful, and it's high quality," she said. "Most importantly, this is not something that was ever made in Europe or anywhere else. It's associated only with Russia, and we should be proud of this culinary and cultural heritage."
Word quickly started to spread, and soon visitors were arriving from miles away to try a little taste of history. But pastila was just the start of Kolomna's renaissance. Ever curious to learn more about the town's heritage, Nikitina also found historical references to a traditional type of bread bun called a kalach, made from dough that is twisted or braided so that each bun has its own handle. Soon, this too was being put into production, and further grant funding enabled Nikitina to establish a separate bakery-museum nearby.
The literary connections with pastila inspired Nikitina and her team to instigate an arts residency and an annual book festival, and before long, the positive atmosphere in the town encouraged other small creative businesses to open.
A cluster of traditional industries is now developing (such as soap, silk and ceramics ) in Kolomna's posad (merchants' quarter), just as there would have been centuries ago. Many employment opportunities have been created; Nikitina herself now employs around 100 people across a clutch of new museums, shops, cafes and production facilities. Many of Kolomna's traditional wooden houses have been restored, showing off their decoratively carved nalichniki, or window frames. Kolomna is now firmly back on the map.
Humanity will be renewed in the orchard
The coronavirus pandemic has brought its share of difficulties, of course, but Nikitina's vision and passion remain undiminished. Continuing to reinvest all profits back into the business, she is now forging ahead with new plans. Part of her inspiration comes from the short story Antonov Apples by Nobel laureate Ivan Bunin, which he wrote in 1900 as a paean to the departed traditions of the Russian countryside. In the story, Bunin refers to several varieties of Russian apples which have now disappeared: Borovinka, Belle-Dame and Plodovitka, for example.
"It's such a pity that these names have disappeared," said Nikitina. "In Russian supermarkets these days, you either see foreign varieties, or they're just marked 'Russian' or 'seasonal', with no names at all." Nikitina wanted to start hunting down varieties of heritage fruit, specifically those that have connotations with Russian literature – such as the summer apple Arkad, Tolstoy's favourite. But she didn't have the expertise to do it alone.
Enter Isabella Dalla Ragione, an "arboreal archaeologist" from Perugia, Italy, who specialises in rescuing old fruit-tree varieties from extinction. She is helping to locate and identify heritage varieties so that an orchard of Russian apple trees can be grown on land purchased by Nikitina next to Dostoevsky's family estate of Darovoye, not far from Kolomna. In addition to the collection, there will be a "fruit forest" and an experimental and educational garden, which among other things will provide edible flowers that can be sold to local restaurants.
Nikitina's inspiration, she said, comes from Dostoevsky. In a diary entry from 1876 he wrote: "I'm not sure how all this will happen, but it will happen; there will be an Orchard. Mark my words: though it be a hundred years from now […] Humanity will be renewed in the Orchard, and the Orchard will restore it – that is the formula."
BBC Travel celebrates 50 Reasons to Love the World in 2021, through the inspiration of well-known voices as well as unsung heroes in local communities around the globe.
—
Join more than three million BBC Travel fans by liking us on Facebook, or follow us on Twitter and Instagram. 
If you liked this story, sign up for the weekly bbc.com features newsletter called "The Essential List". A handpicked selection of stories from BBC Future, Culture, Worklife and Travel, delivered to your inbox every Friday.


[ad_2]

SOURCE NEWS