'Shoot your shot': Obama nails three-pointer while campaigning with Biden in Michigan
[ad_1]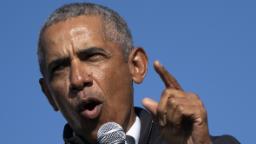 The former President showed he can still get buckets, swishing a corner three-pointer at a Flint, Michigan, gym on Saturday while on the campaign trail for
Joe Biden
, his former vice president.
"That's what I do," Obama yells after nailing the three, before lowering his "VOTE" mask and yelling again, "That's what I do!"
The video was tweeted by Olivia Raisner, the Biden campaign's traveling digital director.
In the video, aides in the gym seem stunned that Obama nailed the three, with one yelling, "Walk off!"
"Whoa," a masked Biden says as the duo leaves the gym.
Raisner's post of the video of Obama's shot in Michigan has garnered over 7.4 million views as of 10 p.m. Saturday night.


[ad_2]

SOURCE NEWS