In pictures: America votes 2020
[ad_1]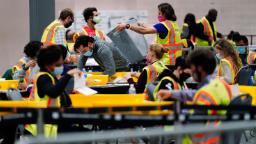 Updated 0045 GMT (0845 HKT) November 6, 2020
Election Day came and went without a winner. Now we wait.
Votes are still being counted in key battleground states that will decide the presidential race. Many of them were cast in advance.
Before Election Day even started, more than 100 million Americans — over 47% of all registered voters — had already cast a ballot.
Many states set records for early voting totals. Prior to Election Day, at least six states — Arizona, Hawaii, Montana, Nevada, Texas and Washington — had already surpassed their entire turnout from the 2016 election.
Because of the coronavirus pandemic, states adjusted their policies to give voters a safe alternative to voting in person. Requests for absentee and mail-in ballots increased across the country.
Batches of mail-in and early votes meant the count often dramatically shifted one way or the other on election night.
[ad_2]

SOURCE NEWS