Election results: How to spot a red or blue 'mirage' in early election night results
[ad_1]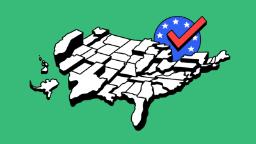 As a result, in some of the most competitive states,
early results may look too rosy
for former
Vice President Joe Biden
, before falling back down to earth and becoming more representative of the true outcome. In other states, Trump could see early leads that slowly narrow as more ballots are counted.
This won't be a sign of fraud or irregularities. Rather, it's just a reflection of how states count votes. Some states process early ballots first, and will report those early in the night, while others save them for last. Here is a breakdown of what to watch for in the pivotal states.
Some people call this the "red mirage" or the "blue shift," where early results favor Trump but later ballots even things out and might even put Biden ahead once all the results are tallied.
This dynamic is expected in Pennsylvania and Wisconsin, where they don't process absentee ballots before Election Day. Early waves of results will likely come from ballots cast on Election Day and from outside the state's population centers, which are expected to favor Trump.
Likely shift from blue to red
Some people call this the "blue mirage" or the "red shift." This is when the first waves of results disproportionately favor Biden, only to be followed by more Trump-friendly ballots later on. This is most likely to occur in the states that start processing mail-ballots weeks before Election Day.
This dynamic is also expected in Texas, Ohio and Iowa, largely for the same reasons. They'll quickly post results from the historic levels of pre-Election Day voting, which likely helps Biden.
Situation unclear or no expected shift
The situation is murkier in some of the other key states.
In Georgia, some counties will report large chunks of absentee ballots quickly after the polls close, but other counties won't right away. It's unclear exactly how this will shake out on election night.
CNN's Jennifer Agiesta, Stephanie Becker, Aaron Cooper, Annie Grayer, Sarah Jorgensen, Caroline Kenny, Ashley Killough, Pamela Kirkland, Adam Levy, Katie Lobosco, Jason Morris, Sara Murray, Bob Ortega, Leslie Perrot, Taylor Romine, Devon Sayers and Gregory Wallace contributed to this report.
[ad_2]

SOURCE NEWS