Why Abu Dhabi's F1 'biosphere' rules pose a challenge to Hamilton's return – F1
Formula 1 has entered an unprecedented 'biosphere' lockdown in Abu Dhabi for the strictest COVID-19 rules it has encountered this season, which could pose a challenge to Lewis Hamilton's return.
After Mercedes confirmed Lewis Hamilton tested positive for coronavirus last Tuesday, the F1 world champion has been in quarantine for the past week for his recovery, as George Russell stepped in as his temporary replacement at the Sakhir GP.
Hamilton remains under a strict quarantine in Bahrain, which he is currently seven days into, but the biggest challenge is set to be Abu Dhabi which has applied tight restrictions, where all regular arrivals in the country face a 14-day quarantine.
An exception has been made for F1, and the entire paddock is obliged to travel on Monday under controlled conditions, before entering a closed 'biosphere' around the track and the neighbouring hotels.
The regulations will make it very problematic for the currently-quarantined Hamilton to be able to compete in Abu Dhabi, even if he tests negative in the coming days.
It's understood that if he does test negative this week but misses the travel window he will only be able to enter Abu Dhabi later in the week if the government makes a special exemption for him.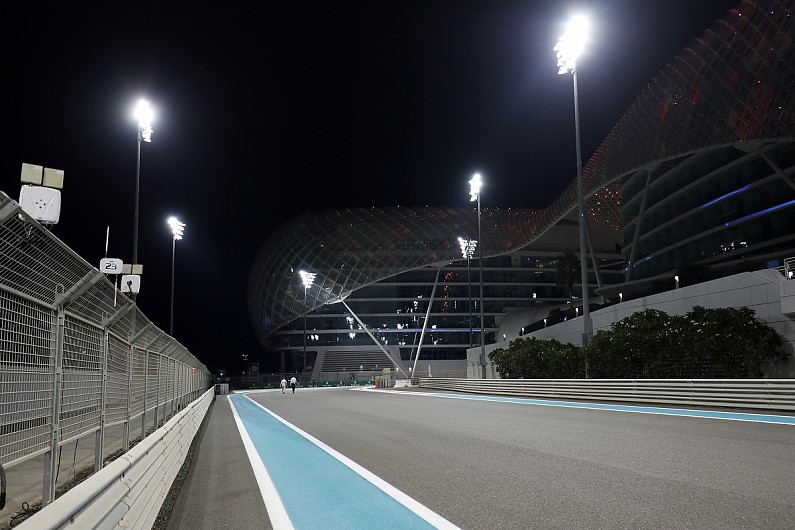 F1's biosphere in Abu Dhabi
On Monday, the entire F1 circus – apart from a handful of drivers and team VIPs travelling on private jets – flew from Bahrain to Abu Dhabi on 10 charter planes, amid tight restrictions.
The Abu Dhabi government's COVID measures are so strict that access by road is currently blocked from its UAE neighbour Dubai, and special exceptions have been made to allow the grand prix to go ahead, following months of discussions between F1 and the authorities.
The area around the circuit and the adjacent hotels has been closed off, with entry for F1 personnel only allowed on Monday.
After that nobody will be permitted to go in or out of what is being termed a 'biosphere' until after the test on Tuesday. The only exceptions are vehicles and personnel with specially arranged government passes.
The preparation process began in Bahrain, where all F1 entrants had to take a locally mandated COVID test at the airport on arrival. They then had to isolate in their hotels until they received a negative result.
PLUS: The unseen mistake that nearly cost Perez victory in Russell's race
Subsequent to their arrival all F1 personnel have been tested every few days with the Bahrain government and FIA testing systems working together.
Arrivals in Abu Dhabi have had to spend at least a week in Bahrain under the COVID testing regime, so anyone who skipped the Bahrain GP – such as Ferrari boss Mattia Binotto – had to travel out for the second race in order to guarantee their presence at the season finale.
The only alternative option is a mandatory 48-hour quarantine for anyone travelling directly from Europe to Abu Dhabi.
Despite being in possession of a Bahrain negative test certificate all arrivals in Abu Dhabi must undergo another test on arrival at the airport.
They are then transferred to the hotels around the track, entering the 'biosphere' that they cannot leave until after the race.
Six hotels will house the entire F1 paddock, and a seventh has been reserved purely for the staff of the other hotels as well as local circuit and event personnel.
The local hotel and circuit personnel have had to quarantine at the hotel for 14 days prior to F1's arrival and will say at the hotel for the duration of the event so they do not have to commute from their homes.
Autosport has produced a standalone special magazine to celebrate our 70th birthday. All current print subscribers will receive a copy for free. To order your copy of the 196-page Autosport 70th Anniversary issue, please go to: autosport.com/autosport70th