Magnussen wanted to retire from Turkish GP due to visibility concerns – F1
[ad_1]

Haas Formula 1 boss Gunther Steiner explained that Kevin Magnussen wanted to retire from the Turkish GP because he feared poor rearward visibility could trigger an incident with faster cars.
The Dane was struggling with poor rearward visibility due to dirty mirrors resulting from the wet conditions at the Istanbul Park circuit on Sunday, and after running for a while on the fringes of the points, lost a lot of time in the pits when he was released with a cross-threaded wheelnut and the car had to be pulled back to his pit box.
After the pit delay put him in front of quicker cars, Magnussen vented his frustration about the visibility issue over the radio, stating more than once that it was "dangerous."
At one point Magnussen said: "Have you been listening to me? I can't see anything".
Steiner explained that Haas kept him out in case a spate of late retirements boosted his position, and because his good pace meant that for a long stretch before the flag he had no one approaching from behind.
But with Lando Norris set to catch him, Magnussen was called into the pits to retire on the penultimate lap.
"The difficulty was he couldn't see to the back, because of the mirrors," said Steiner.
"I think they were dirty and with all the spray you cannot see anything in the rear.
"And being in the middle with blue flags is very difficult if you don't see in the back, and he didn't want to hurt anybody's race or do anything which then is deemed having done something wrong.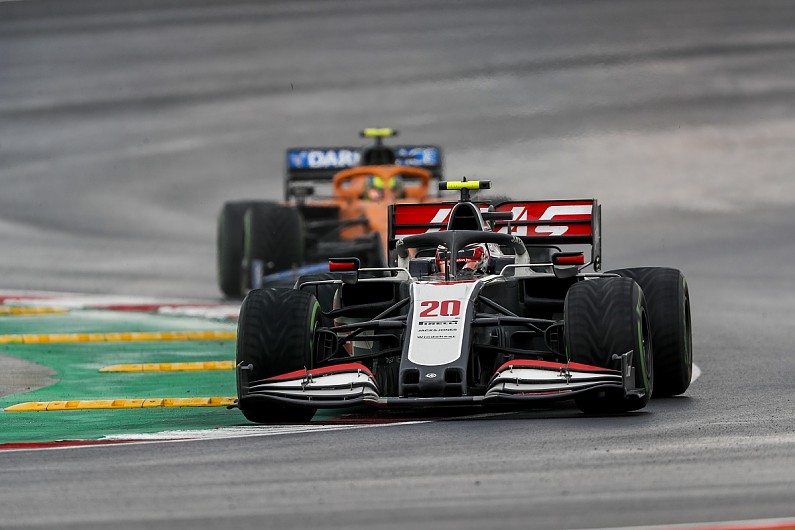 "He started to say that about 12 laps to go. And a race like this you never know if in the front there is a mayhem happening in a group of five or six cars.
"All of a sudden you can unlap yourself, and it's like a difficult decision because then you really look stupid if you withdrew a car. And he was fast.
"Once the group of the leaders went by, with [Lance] Stroll he was pretty well in control. We monitored the time and said nobody's coming for 10 seconds at least, and he kept the 10 seconds up.
"So we decided to keep him out there, and the car was going good. I mean, the chances of an opportunity were very small, but you cannot just give up.
"And we understood that he is struggling, but we knew also that for a while nobody will be coming behind him, so let's get on with it.
"For sure for him it's frustrating, but we spoke with him afterwards and explained the situation to him."
Autosport has produced a standalone special magazine to celebrate our 70th birthday. All current print subscribers will receive a copy for free. To pre-order your copy of the 196-page Autosport 70th Anniversary issue, please go to: autosport.com/autosport70th
[ad_2]

SOURCE NEWS