IMSA Charlotte: Garcia/Taylor Corvette splash to night race victory – IMSA SportsCar
Corvette Racing pair Antonio Garcia and Jordan Taylor secured their fifth IMSA Sportscar Championship victory of the season under the lights in an all-GT race at a wet Charlotte 'roval'.
The night race was delated by an hour due to wet conditions that had blighted the previous NASCAR Xfinity race, but it was still raining when the green flag was waved, with Taylor leading from pole in the #3 Chevrolet Corvette C8.R.
His lead was short-lived however, as Jesse Krohn's RLL BMW took the lead on lap four. Taylor then lost second to Porsche's Fred Makowiecki, only for the Frenchman to spin the #911 into the Turn 2 wall.
Although he made it back to the pits, the car was retired soon afterwards, capping a bad night for Porsche after Laurens Vanthoor had suffered damage in the sister #912 car that also forced its retirement.
The four remaining GTLM contenders pitted under the resulting caution, after which John Edwards (in for Krohn) led Garcia, the second Corvette of Tommy Milner (started by Oliver Gavin) and the BMW Connor de Philippi had taken over from Bruno Spengler.
Fresh from his win at the Indianapolis 8 Hours last week, De Phillippi closed in on Milner to recover third on lap 26, and they remained in the same order until lap 47 when Garcia retook the lead from Edwards at Turn 8.
Milner's crash on the banking on lap 54 – later attributed to a part of the No. 4 Corvette's right-rear suspension breaking – brought out a late caution with 11 minutes remaining.
But Garcia was unfazed at the restart and escaped the clutches of the chasing BMWs at the restart to consolidate victory over Edwards and De Philippi, in doing so extending his and Taylor's championship lead to 24 points over Milner and Gavin.
"I saw my opportunity and went for it," said Garcia.
"I don't know if it was risky move or not, but at that point I didn't think about the championship. I wanted to win the race."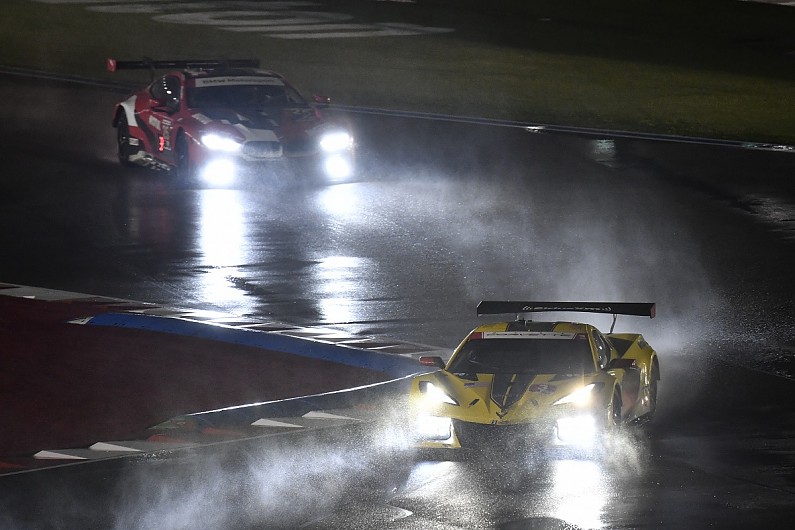 In GT Daytona, a sensational stint from Bill Auberlen helped clinch victory for the Turner Motorsports BMW M6 he shared with Robby Foley.
Aaron Telitz's polesitting AIM Vasser Sullivan Lexus RC F initially held off Foley, but the yellow and blue M6 rotated on Lap 3, so that Matt McMurry's Meyer Shank Racing Acura NSX became his closest challenger in class.
Telitz, who had moved up to third overall – ahead of early spinner Spengler as the conditions got worse – got put back behind the GTLM cars for the restart, but the yellows returned almost immediately when Till Bechtolsheimer smashed the Gradient Acura into a wall.
After the restart, Telitz continued to lead McMurry, but the order was scrambled at the pitstops as Telitz's co-driver Jack Hawksworth dropped to fifth with a poor stop behind Mario Farnbacher (in for McMurry), Pat Long's Wright Porsche, Auberlen and team-mate Townsend Bell's #12 Lexus.
Hawksworth made short work of Bell, but could do nothing about Auberlen as the veteran quickly cleared Long and chased after Farnbacher, making a pass for the lead on lap 31. Auberlen quickly began pulling out a gap as Long took second following a mistake from Farnbacher.
The three-way battle for second was briefly halted by the final caution, but approaching the green flag Hawksworth turned Farnbacher around as they came out of the final chicane.
The Lexus driver was briefly elevated to third but a drive-through penalty dropped him to eighth, one place behind Farnbacher, as the Roman De Angelis/Ian James Heart of Racing Aston Martin beat the Bell/Michael De Quesada Lexus to third.
Results – 62 laps
| Pos | Class | Driver | Team | Car | Gap |
| --- | --- | --- | --- | --- | --- |
| 1 | GTLM | A.Garcia, J.Taylor | Corvette Racing | Chevrolet | 1h40m08.170s |
| 2 | GTLM | J.Krohn, J.M.Edwards | BMW Team RLL | BMW | 1.474s |
| 3 | GTLM | B.Spengler, C.De Phillippi | BMW Team RLL | BMW | 2.059s |
| 4 | GTD | B.Auberlen, R.Foley | Turner Motorsport | BMW | 1 Lap |
| 5 | GTD | R.Hardwick, P.Long | Wright Motorsports | Porsche | 1 Lap |
| 6 | GTD | I.James, R.De Angelis | Heart of Racing Team | Aston Martin | 1 Lap |
| 7 | GTD | T.Bell, M.De Quesada | AIM Vasser Sullivan | Lexus | 1 Lap |
| 8 | GTD | A.Parente, M.Goikhberg | Heinricher Racing with Meyer Shank Racing | Acura | 1 Lap |
| 9 | GTD | R.Ferriol, S.Pumpelly | Team Hardpoint | Audi | 1 Lap |
| 10 | GTD | M.Farnbacher, M.McMurry | Meyer Shank Racing with Curb-Agajanian | Acura | 1 Lap |
| 11 | GTD | J.Hawksworth, A.Telitz | AIM Vasser Sullivan | Lexus | 1 Lap |
| 12 | GTD | J.Kingsley, P.Holton | Compass Racing | McLaren | 2 Laps |
| 13 | GTD | G.Robinson, L.Aschenbach | Riley Motorsports | Mercedes | 2 Laps |
| 14 | GTLM | O.Gavin, T.Milner | Corvette Racing | Chevrolet | Not running |
| 15 | GTD | A.Lally, J.Potter | GRT Magnus Racing Team | Lamborghini | Not running |
| 16 | GTD | T.Bechtolsheimer, M.Miller | Gradient Racing | Acura | Not running |
| 17 | GTLM | N.Tandy, F.Makowiecki | Porsche GT Team | Porsche | Not running |
| 18 | GTLM | E.Bamber, L.Vanthoor | Porsche GT Team | Porsche | Not running |