Collard and Mitchell claim British GT title with Silverstone win, Button 14th – GT
[ad_1]

Barwell Motorsport pair Rob Collard and Sandy Mitchell wrapped up the British GT title with victory in the deciding round at Silverstone as Jenson Button finished 14th on his debut.
Collard and Mitchell qualified on pole for the three-hour season finale, giving the Lamborghini Huracan drivers the best possible chance of overhauling the six-point lead carried into the event by RAM Racing Mercedes of Sam De Haan and Patrick Kujala, which started third.
Collard held the lead at the start as a cautious De Haan slipped back to fourth, before diving into the pits at the end of lap two when the safety car came out following a clash between GT4 drivers Nick Jones and Mia Flewitt.
Having taken over from Collard, Mitchell led at the restart before being overtaken by team-mate Phil Keen into Vale on lap 10. Keen, who also had a slim title chance coming into the event 11.5 points behind the Mercedes, gradually stretched his advantage out to 6s before handing over to Adam Balon on lap 30, while Mitchell stayed out another seven laps before relaying to Collard for the second of the three mandatory driver changes.
However, Bronze-rated amateur Balon was unable to match the pace of the cars around him and had fallen into the clutches of De Haan when the two made contact at Stowe, De Haan spinning Balon and earning himself a 10s stop-go-penalty.
That meant Collard and Mitchell's title credentials were significantly stronger, and it coincided with Collard retaking the lead from De Haan's team-mate Ian Loggie into the Loop.
As Loggie fell back defending from first Brendan Iribe's Optimum McLaren, then the identical car of Lewis Proctor, Collard was able to consolidate his advantage. Although Proctor closed to within 3s after passing Loggie, following their final pitstop Proctor's team-mate Ollie Wilkinson lost a minute after a clash with Loggie at Aintree, dropping the car from leading contention.
When Collard handed back to Mitchell for the final time on lap 72, his closest challenger was Michael O'Brien in the Jenson Team Rocket RJN McLaren that had made strong progress during the middle portion of the race with James Baldwin at the wheel.
But O'Brien never got close enough to attempt a move and was overhauled for second by Loggie's co-driver Yelmer Buurman with a little over a minute to go around the outside of Stowe.
Martin Kodric and Al Faisal Al Zubair had a quietly effective run to fourth in their 2Seas McLaren, inheriting places late on when Iribe's co-driver Ollie Millroy had an apparent electrical glitch at Becketts that demoted him to seventh.
2Seas team-mates Dean Macdonald and Angus Fender beat the WPI Motorsport Lamborghini of Michael Igoe and Andrea Caldarelli to fifth, while De Haan and Kujala finished a disappointed eighth, one spot ahead of Keen and Balon.
The second RJN McLaren that 2009 Formula 1 world champion Button shared with team co-owner Chris Buncombe struggled for pace all race after overnight damper changes and was unable to take advantage of the problems afflicting others.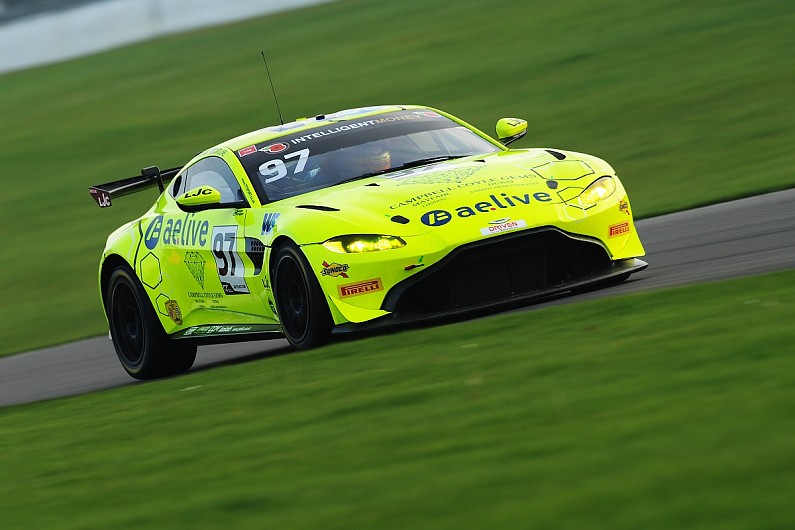 Meanwhile Rob Wheldon and Andrew Gordon-Colebrook took Century Motorsport's first victory of the year in GT4 as Jamie Caroline and Dan Vaughan prevailed in a tense championship battle with second in their TF Sport Aston Martin.
With the Pro-Am of Wheldon/Gordon-Colebrook BMW comfortably clear thanks to its shorter pitstops and strong pace from European Le Mans Series LMP3 champion Wheldon, the battle for second would decide the title.
Caroline made a critical pass on Patrik Matthiesen's HHC McLaren with a little over 10 minutes to go at Becketts and kept a gap over team-mate and main title rival Patrick Kibble to give TF its second consecutive teams' title.
[ad_2]

SOURCE NEWS