Autosport 70: Ranking the best drivers of an epic F1 battle – F1
[ad_1]

The 1964 Formula 1 season was one of the closest in world championship history. Remarkably, Autosport decided to rank the drivers before the three-way fight for the title concluded at the season finale, in the 23 October 1964 issue of the magazine
My colleagues and I had no difficulty in selecting the leading Autosport starred drivers for 1964. Four grand prix men are so outstanding that their choice was almost automatic, and it was merely a matter of attempting to arrange them in order.
This was a real problem, for each has equal ability, and one had to examine closely individual performances and other points that might provide some sort of basis upon which to form a conclusion.
We have often been criticised in the past for our "presumption" in daring to select drivers for rating, but, as I had said before, this is purely an Autosport feature, formed after close observation of the GP scene throughout the season. I venture to submit that this journal carries some authority in these matters and, to judge by correspondence received, the annual article is awaited with eager interest by drivers and by racegoers alike.
Jim Clark, Graham Hill, John Surtees, Dan Gurney? All have won GPs during 1964, and there is literally nothing to choose between them as regards driving ability. All four possess exceptional skill, race temperament, and the determination that wins races.
Each has had his share of ill-luck, particularly Dan Gurney, but once the starter's flag falls one can safely bet that this quartet will soon make the running in the battle for leadership. In the main only mechanical failure will halt their progress, and such is their car control that spins are exceptionally rare.
It might have been fairer to draw lots, rather than attempt to list them in order, but the absolute dedication of John Surtees, together with his magnificent drives at Nurburgring and Monza, have given him a fractional preference.
PLUS: John Surtees' 10 greatest F1 drives ranked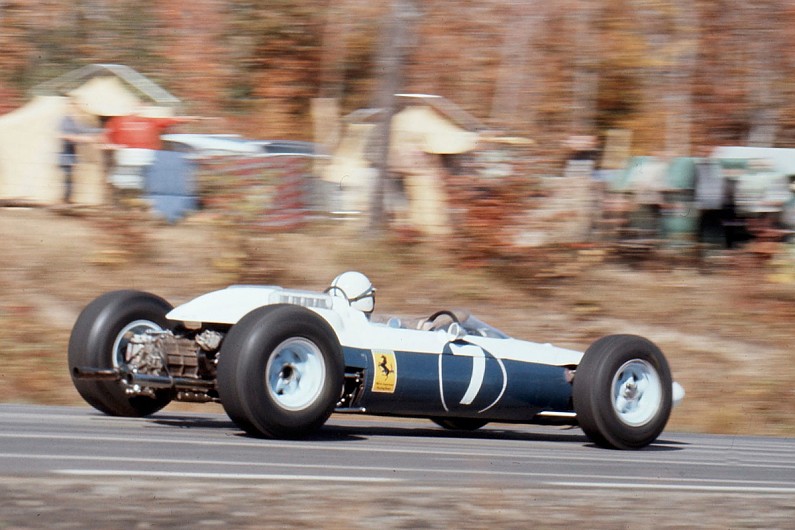 That he was also elected 'Driver of the Year' by the Guild of Motoring Writers did not in the least influence our decision. To our way of thinking, Surtees is the sole reason for Ferrari's comeback in Formula 1 racing. Without a driver of his skill, Enzo Ferrari would not have had the same incentive to develop and produce race-winning machines.
PLUS: The spectacular peaks and troughs of Ferrari's cyclical history
Next comes that model of precision and polished driving Graham Hill – a man who never knows when he is beaten, and who is capable of pulling out all the stops as and when required.
BRM owes Hill a debt as great as Ferrari owes Surtees, for the Londoner has developed a technique of extremely fast and safe driving of which either Juan Manuel Fangio or Stirling Moss could be proud.
Sheer determination won him the world championship in 1962, and his driving this season has been of real championship quality.
Jim Clark is a 'natural'; almost invincible in 1963, his championship year, and always a potential winner. This year, rivals appear to have caught up with Colin Chapman's clever design, and also the 'Flying Scotsman' has not been quite so fortunate as regards reliability.
His uncanny knack of seemingly being able to break lap records at will is almost taken for granted, and, quite candidly, he had more than a few opponents beaten before they even started.
Things have changed, however, and Clark, brilliant driver that he is, has had to work far harder than he did last season. He is very definitely a 'five-star' man, possessed of amazing car control, and is a decided asset to motor racing.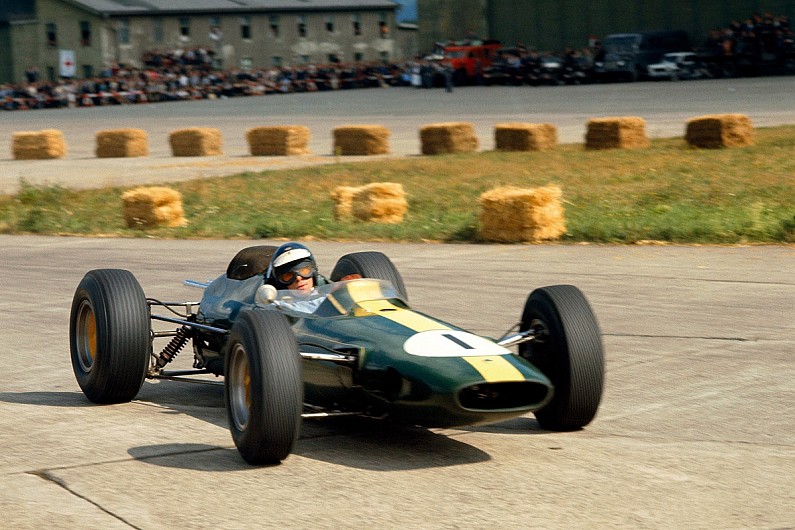 PLUS: Formula 1's great Lotus landmarks – Lotus 25
Now we come to Dan Gurney, a man whom Dame Fortune appears to spurn more often than not. The popular Californian has had more than his share of mechanical misfortunes, but everyone is agreed that he is one of the greatest GP drivers of our time. His appalling bad luck at Spa was an example of what can befall this magnificent driver.
Jack Brabham made a shrewd move when he engaged him, for Gurney is surely one of the major attractions in the GP circus, and can always be depended upon to put everything he knows into his drives.
So there you are then. Four men with scarcely anything to choose between them. Each is absolutely dedicated to the art of motor racing and Autosport will be very surprised if anyone should criticise our four 'five-starrers', but arguments as to their placing will naturally be anticipated.
"Brabham has had it!" How often have we heard this remark, but surely the Australian has proved this season that he is driving better than ever?
He is the first constructor to gain world championship points driving a machine bearing his own name. Champion in 1959 and 1960, Brabham is certainly worth his four stars.
Also into this category comes Jo Siffert, the most improved F1 driver of 1964, with several outstanding performances in his privately entered Brabham-BRM.
Siffert must surely be snapped up as a factory man next season.
Four stars also goes to Lorenzo Bandini, Ferrari's dashing second string. Although often a trifle unorthodox in his methods, the young Italian has been a strong factor in the Ferrari comeback.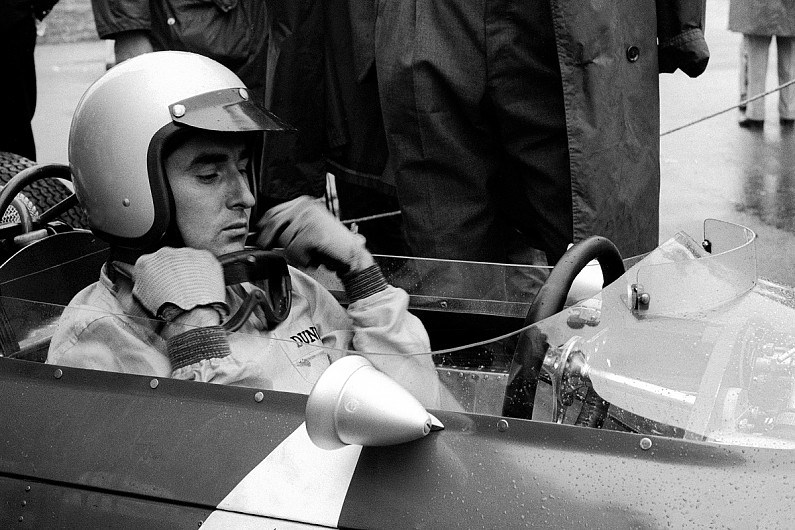 Rounding up the four-star quartet is Bruce McLaren. Perhaps Cooper may be said to have had a lean year, but the fact remains that the New Zealander is a top-grade F1 driver, capable of being up in front with the leaders.
Now we come to the three-star brigade, and Bob Anderson is unhesitatingly given pride of place. Since he gave up two wheels for four his driving technique has improved by leaps and bounds, and he has produced some magnificent drives with his 'carburettor' Brabham Coventry-Climax.
Despite his early-season accident in the Reims F2 race, we saw enough of Team Lotus's Peter Arundell to realise that he was no ordinary GP driver. We look forward to seeing him in action again in 1965.
Innes Ireland is an extremely fast driver and, given the equipment, can dispute the issue with anyone. Richie Ginther has a splendid reliability record, often overlooked, but thoroughly deserves a three-star rating.
PLUS: Celebrating America's forgotten F1 winner
Leading in the next section is Chris Amon, a young man of outstanding ability and obviously destined to go places: one of the late Reg Parnell's discoveries.
Jo Bonnier is something of an enigma. The skill is there, but Jo seems to have lost some of the fire of previous seasons, although his driving in long-distance sportscar racing, and in speed hillclimbs, is impeccable.
Once Mike Hailwood decides to stay on four wheels, rather than mix his career with the bikes, the Parnell man must be considered for a much higher rating. Tony Maggs is a man who has triumphed over adversity, and once he gets more suitable equipment than a somewhat outmoded BRM he must rapidly come to the fore again.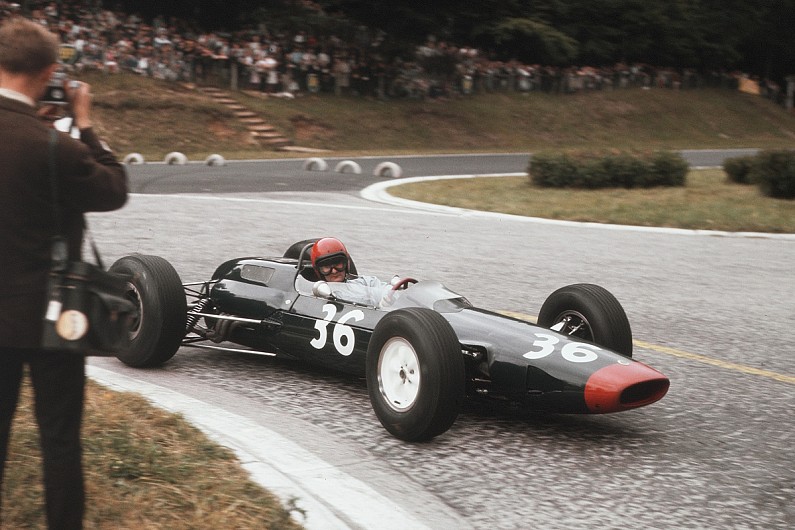 To complete our list we come to what can be said to be a problem group. Both Giancarlo Baghetti and Phil Hill are still paying the penalty for their abortive season with ATS. The former has done as well as could be expected with a Centro Sud BRM, particularly as regards finishes, but Phil has had a very poor season with Cooper.
Ill-luck seems to concentrate itself on the brilliant driver Trevor Taylor, while Mike Spence has done sufficiently well in stepping into Arundell's seat to qualify for the top 20.
1964 driver ratings
John Surtees *****
Graham Hill *****
Jim Clark *****
Dan Gurney *****
Jack Brabham ****
Jo Siffert ****
Lorenzo Bandini ****
Bruce McLaren ****
Bob Anderson ***
Peter Arundell ***
Innes Ireland ***
Richie Ginther ***
Chris Amon **
Jo Bonnier **
Mike Hailwood **
Tony Maggs **
Giancarlo Baghetti *
Phil Hill *
Trevor Taylor *
Mike Spence *
That is Autosport's opinion as to the merits of the current crop of F1 drivers. It must lead to arguments, particularly if there is a surprise result in the Mexican GP.
Anyway, all three contenders for the 1964 world championship are included in our leading group!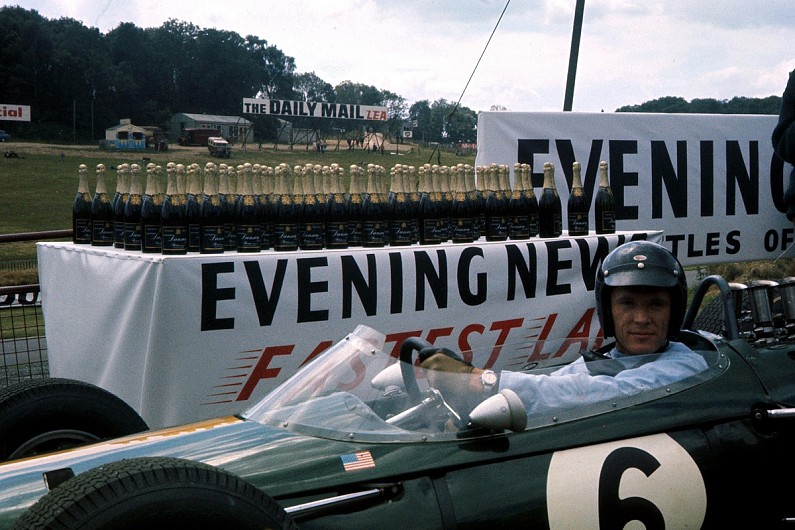 2020 vision
Events in Mexico City, just two days after this was published, did not embarrass Autosport's bold decision to produce its rankings prior to the season finale.
Clark started from pole and pulled away from Gurney, while Surtees initially fell back with engine issues. Once the Ferrari started working properly, Surtees put on a recovery drive and caught Hill and Bandini, who were fighting over third.
As if to back up Autosport's claims that Bandini had 'unorthodox methods', the Ferrari number two clashed with Hill's BRM, though Surtees maintained both were equally to blame.
With Clark leading Gurney and the two Ferraris, the title appeared to be going the reigning world champion's way, only for an oil line to fail on the Lotus. Gurney's Brabham swept into the lead on the penultimate lap, before Bandini moved aside for Surtees to finish second and clinch the crown by one point from Hill.
Clark and Lotus would bounce back in 1965, winning both titles as well as the Indianapolis as the Scot established himself as the benchmark driver of his generation.
Autosport 70: How Hill set Alonso a challenge for the future
Surtees probably would have won the 1966 crown if he had not fallen out with Ferrari team boss Eugenio Dragoni and left the Scuderia, but did win the 1967 Italian GP with Honda before setting up his own team.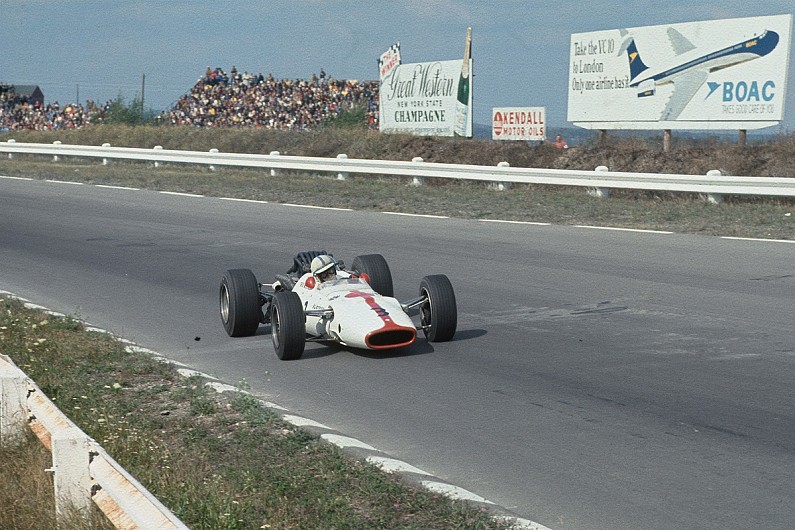 Hill would win the 1966 Indianapolis 500 and go on to take the 1968 F1 title following Lotus team-mate Clark's death. He would become the first (and, as of 2020, only) driver to complete the triple crown of the Monaco GP, Indy 500 and Le Mans 24 Hours when he won the French endurance classic with Matra in 1972.
Gurney would leave Brabham at the end of 1965 to set up his own operation, famously winning the 1967 Belgian GP in his own Eagle-Weslake. He retired from driving in 1970, but continued to have a major impact on motorsport, particularly in the United States, until his death in 2018.
The driver who would become the new 'five-starrer' would make his F1 debut for BRM in 1965: Jackie Stewart.
[ad_2]

SOURCE NEWS