Rins didn't "have the chance" to fight Morbidelli in Teruel MotoGP – MotoGP
[ad_1]

Suzuki's Alex Rins says he didn't "have the chance" to attack MotoGP Teruel Grand Prix race winner Franco Morbidelli as the Italian was "unstoppable".
Aragon GP race winner Rins qualified on the front row for only the third time in his MotoGP career in third place and shadowed Morbidelli for the entirety of the 23-lap Teruel race.
Rins kept the pressure on the Petronas SRT Yamaha rider ahead, but the gap steadily opened up between the pair and Morbidelli was able to win by 2.2 seconds.
The Suzuki rider says he was "suffering" with his soft rear tyre in the closing stages, which led him to switching focus to managing the gap between himself and team-mate Joan Mir in third.
"He was incredible, unbelievable," Rins said of his race with Morbidelli.
"We rode even faster than last week and I couldn't have the chance to show him my bike a little bit to overtake him, he was so fast.
"But I think I did a good race, quite consistent. I was suffering with the tyres, because already last week we arrived in the end of the race with a lot of sliding, a lot spinning.
"And eight, seven laps to the end I saw on the pit board Joan was two seconds [behind] and every lap was more far away, so I say 'OK Alex, try to keep the distance to him and see where we can arrive with the tyres' because Franco was unstoppable.
"So, I think we need to be quite happy, another double podium for Suzuki and we leave Aragon with 45 points, which is very nice for the championship."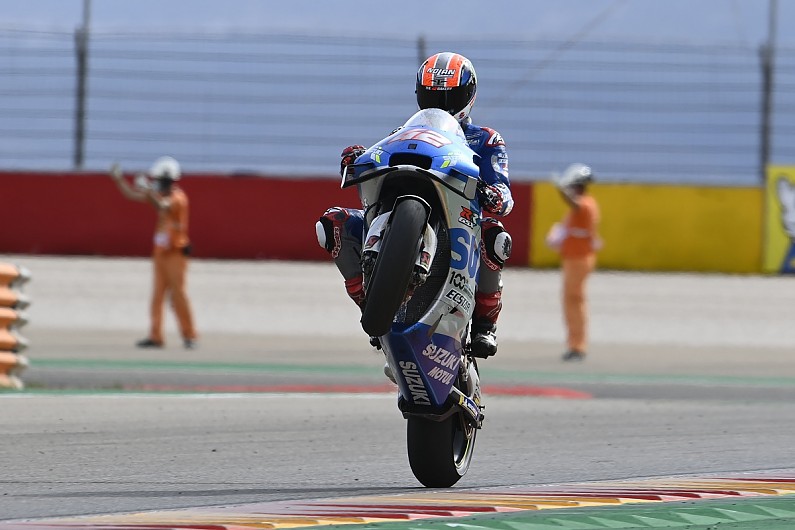 Rins' haul of points from the Aragon double-header means he is now just 32 points from his championship-leading team-mate Mir.
The Teruel runner-up had to field questions across both Aragon rounds about team orders and whether he will now have to help Mir.
But Rins insists he still has "options" to win the title and joked the situation for Suzuki having two championship contenders now is "not good".
When asked about his title chances, Rins said: "It's difficult. I know that this is not a good situation for Suzuki, because they have two riders fighting for the crown.
"I know Joan is going fast, so consistent with a lot of podiums.
"But, still we have options. Three races to the end, so let's give our best."
[ad_2]

SOURCE NEWS