Kristensen and Pirro to go head-to-head in Le Mans-winning cars at Goodwood SpeedWeek – Historics
[ad_1]

In association with
Sportscar aces Tom Kristensen and Emanuele Pirro will go head-to-head in Le Mans-winning cars during the Goodwood SpeedWeek.
The racing legends will be competing in the timed shootout on the Goodwood circuit as part of the 16-18 October event.
Kristensen will be at the wheel of the Porsche-engined, TWR-bodied WSC-95 LMP car, the exact car in which he won the Le Mans 24 Hours in 1997 – the first of his nine wins in the classic French race.
Meanwhile, Goodwood favourite Pirro will be at the wheel of an Audi R8, the same type of car as the one in which he took the first of his five victories at Le Mans in 2000 (below), when sharing with Kristensen.
The closed doors SpeedWeek event has allowed the organisers to bring faster cars than ever before onto the Goodwood track for the shootout.
Cars from most significant global series will be in action, including Formula 1, NASCAR, V8 Supercars, DTM, European Touring Cars, British Touring Cars, Trans-Am and many more, and it is expected to lead to the fastest ever laps of the Sussex track.
Alongside Kristensen and Pirro, bringing the total Le Mans victories up to 16, will be Goodwood Hill record holder Romain Dumas with the all-electric Volkswagen I.D. R.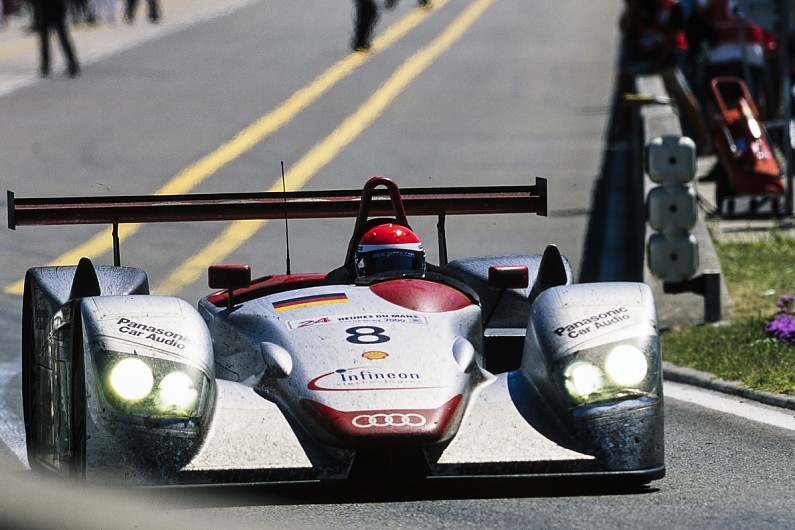 This will be the first time the I.D. R has run in anger since it sealed a trio of records in 2019.
Alongside the shootout will be a full weekend of historic racing, a rally super special, the inaugural 'Goodwood Gymkhana', and celebrations of 70 years of F1 and Porsche at Le Mans.
It was recently announced that the event will feature a special tribute to Sir Stirling Moss, who passed away earlier this year.
The Kinrara Trophy race for pre-'63 GT cars will be renamed the Stirling Moss Revival Trophy in his honour.
Other races due to feature include two-part SF Edge Trophy (for Edwardian specials) and St Mary's Trophy (for pre-'66 saloons) contests.
There is also due to be sprint and enduro Gerry Marshall Trophy races for Group 1 tin-tops and the final race is set to be the TT Celebration, featuring 1960-64 GTs.
Although spectators will not be admitted, the whole SpeedWeek will be streamed live and for free on a specially-created Goodwood homepage as well as across all of Goodwood's social media channels.
[ad_2]

SOURCE NEWS