From the archive: Button's last spell with Williams | F1 News
[ad_1]

Jenson Button is returning to Williams in 2021 as a senior advisor, 21 years after making his F1 debut with the Grove outfit in 2000. The team is in a very different position now, but so too is Button – who reflected on his rookie campaign for the 11 August 2016 issue of Autosport magazine.
The turn of the new millennium will forever be etched in Jenson Button's memory. Not because he feared the world would end, or that the Y2K bug would ground aeroplanes and cause worldwide transport networks to grind to a halt. No, for him the year 2000 marks something far more significant – the beginning of his Formula 1 career.
Fifteen years before Max Verstappen sent shockwaves through single-seater racing by leaping straight into F1 from Formula 3, Button did likewise – blazing a trail through the international karting scene, Formula Ford and British F3 before arriving at the sport's pinnacle.
Such a move was not that extraordinary back then. Jarno Trulli did it just a few seasons earlier. Bar a handful of F2 races on the side, so had Alain Prost. Oh, and some bloke named Ayrton Senna da Silva. Having won the 1998 McLaren Autosport BRDC Award and finished third in British F3 in 1999 – making him the top rookie – Button's big grand prix break came with Williams.
But his first proper taste of F1 was down to Prost, who'd been keeping tabs on Button after friend Serge Salnier told him he'd been "shocked" by how good Button was when first testing for Saulnier's Promatecme F3 team at Magny-Course in the winter of 1998.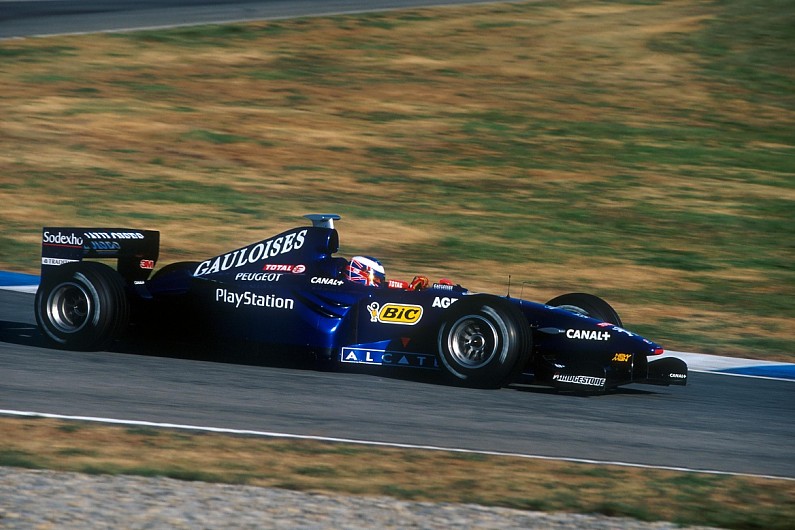 "I was on holiday in Mexico at the time," recalls Button, now an F1 world champion, winner of 15 grands prix and the most experienced driver on the grid. "I got a call from my manager saying 'He [Prost] wants you test the car'. I'd driven a McLaren before that, at Silverstone, but it was on wets in drying conditions around the national circuit.
"I only did one test with Prost [at Barcelona] – 33 laps, then the engine blew up! It was a really good car actually. Nick Heidfeld ran new tyres on low fuel at the end and did a time. But my times was good enough to be quicker than Jean Alesi the previous day. He was their racing driver at the time, so I was well happy with the test! I didn't really understand why I was doing it, because there wasn't a race seat available [Prost had Alesi and Heidfeld under contract].
"They said 'maybe F3000', but I didn't really want to do F3000. That was the [natural] direction, but I just didn't like the car at all – it was massive, just a box of a car. I had a couple of meetings with Alain, then the opportunity to test the Williams came up."
"I was running in sixth in my first race, then running seventh and finished sixth in my second race. In those days, to finish sixth was so difficult…" Jenson Button
Williams was on the hunt for a driver, having agreed to release double CART title winner Alex Zanardi after a disappointing return to F1. It wanted to recall Zanardi's successor as CART champion Juan Pablo Montoya (under a contract dating back as far as 1997) from the US, but Chip Ganassi had just inked a new engine deal with Toyota and didn't have time to find an alternative driver, so Williams agreed to wait another year before bringing Montoya to F1.
Williams needed someone to plug the gap. Incoming engine supplier BMW pushed its sportscar ace Jorg Muller (Williams was not so keen); Japanese F3 king Darren Manning was also considered (he tested for Williams at Jerez in December 1999); but promising Brazilian Bruno Junqueira was the favourite, having tested for Williams at Monza in the autumn of '99 and enjoyed a strong season in the squad's Petrobras Junior F3000 feeder team.
However, Button's Prost test had also made waves, and after a Christmas phone call from Frank Williams (which Button thought was a prank at first), he headed to Jerez to go head-to-head with Junqueira for the seat. But the test did not start well for Button.
"The thing broke down three times in one day – as in broke three engines in one day," he explains. "One on the stands, on through Turn 4, and the one through Turn 6 – both on the outlap! So, we didn't really get any testing done."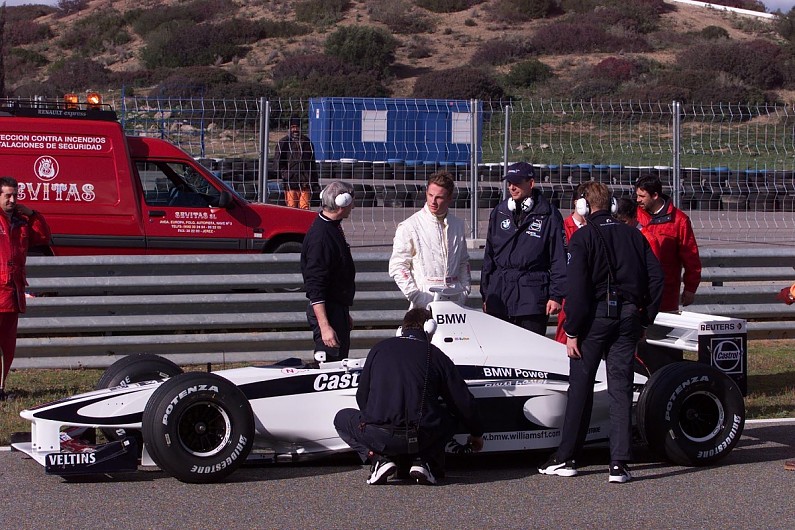 Subsequent running at Barcelona's Catalunya circuit was more productive. Button and Junqueira were tough to split. Most of the engineers preferred Junqueira, but Button was fractionally quicker. Williams felt he might have greater potential given his relative lack of experience, so the Brit finally got the nod to partner Ralf Schumacher.
After further pre-season tests at Kyalami, Silverstone and Barcelona, Button headed to Melbourne to make his grand prix debut at just 20 years of age. On his first lap out of the pits he followed Michael Schumacher's Ferrari around the track.
"He was only a double champion at that point, but driving out behind him – this guy I watched race for so many years – was pretty awesome," remembers Button. "And the V10 sound was amazing. The way the floors were and the way that the leaves fall off the trees out there, the first cars out got a rooster-tail of leaves. Very special."
Button had a rough start, crashing in practice, and qualifying on the last row of the grid. But he enjoyed a strong first lap and ran as high as fourth (admittedly in a race of attrition) before unreliability thwarted a debut points finish.
"I was running fourth at one point, and then sixth when the engine blew up," says Button. "I was gutted. Then I went to Brazil, had fun there, and I remember lunging Jos Verstappen into the hairpin and finishing seventh. Then DC [David Coulthard] got disqualified and I got the point!
"I was told just as I was getting on the bus to the airport. We had a few drinks on the way – it was crazy. I was running in sixth in my first race, then running seventh and finished sixth in my second race. In those days, to finish sixth was so difficult…"
Button qualified sixth and finished fifth at the British Grand Prix, overtaking Michael Schumacher at the start and scoring points despite "running on nine cylinders for the last 20 laps", but mostly struggled to match his team-mate in qualifying, as well as suffering poor reliability over the first half of the season.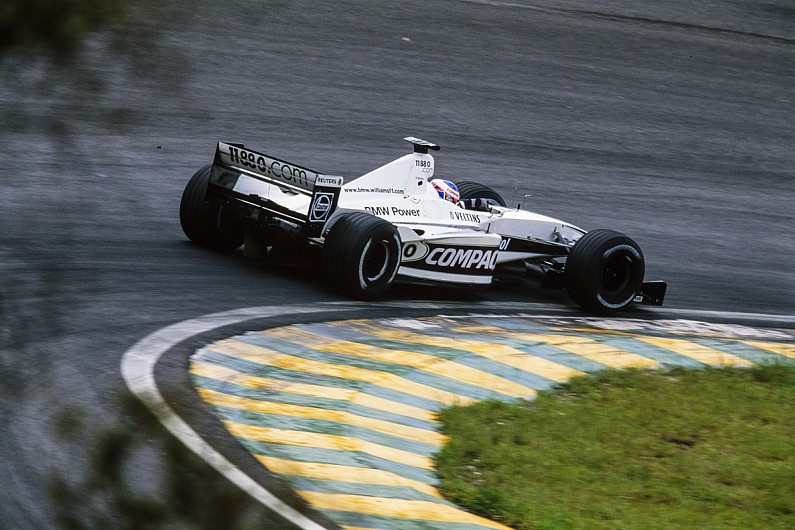 "Winter testing was tough because I was about half a second off Ralf and it took a while really to get on the pace," Button admits. "It was mostly braking. Just braking as late as you could and how hard you can brake. That's where you lack confidence, because you're not used to big downforce.
"I was totally out of my depth, because I had no real experience in car racing. And back then you didn't have simulators. I had no experience engineering wise, and nobody really knew how important that was for a driver. I was quick, but in terms of engineering I didn't know what I was doing."
Button survived a late spin to finish fifth from a lowly start in Austria, but went one better at the next race in Germany. As Rubens Barrichello charged from 18th on the grid to score an emotional maiden win for Ferrari, Button managed similar heroics to finish fourth, which would stand as the best result of his season in F1.
"I was totally out of my depth, because I had no real experience in car racing. And back then you didn't have simulators" Jenson Button
"I pulled the clutch in during the green flag lap and the engine just died, so I started last," recalls Button. "I came through and was chasing down DC about a second per lap [at the end]. I just ran out of laps, which was a shame."
As was Button's eventual fifth-place finish at Spa, where he qualified a season's best third and felt sure he was going to break his podium duck.
"That was so frustrating," says Button. "I had to try to overtake Trulli, but crashed [into him] and ended up finishing fifth. Annoyingly Ralf was on the podium and I was thinking 'that should have been me!'"
But Spa at least showed how far Button had come as a grand prix driver, marking the start of a run of outqualifying his more experienced team-mate for three of the last five races.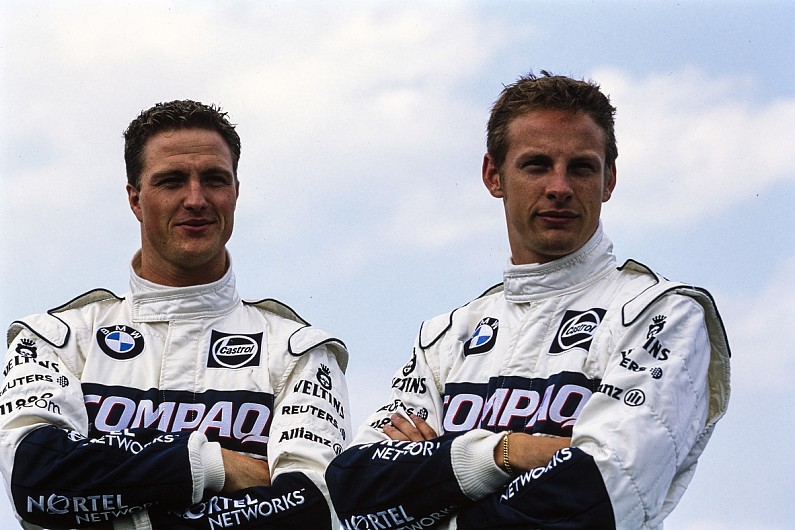 "He was quick – as Juan Pablo always said," says Button of Ralf Schumacher. "He wasn't very consistent, but was quick on his day, definitely."
After crashing out of the top six at Monza – where he struck the barriers after getting caught out by the sudden slowing of the top order before a safety car restart – Button underlined his improving Saturday form by outqualifying his team-mate again at Suzuka. This feat was all the more impressive given he had never raced cars in Japan before, while Schumacher had claimed the 1996 Formula Nippon title before his own graduation to F1 with Jordan.
"The first day I was half a second off Ralf in the first sector – just through the snake," says Button, who ended up fifth on the grid amid a thrilling battle for pole between title rivals Michael Schumacher and Mika Hakkinen. "Then I was quicker than him by about three tenths [in that sector]. It was an amazing experience. You need real confidence – especially then – to drive the car through the Esses. There is no runoff…"
Button finished his rookie season eighth in the championship, with half the number of points of his team-mate. He was acknowledged as 'rookie of the year' at December's Autosport Awads, and did enough to earn a move to Benetton-Renault for 2001, as Montoya finally joined up with Williams.
Button's one-year ticket with Frank's team would ultimately prove to be the start of something very big indeed.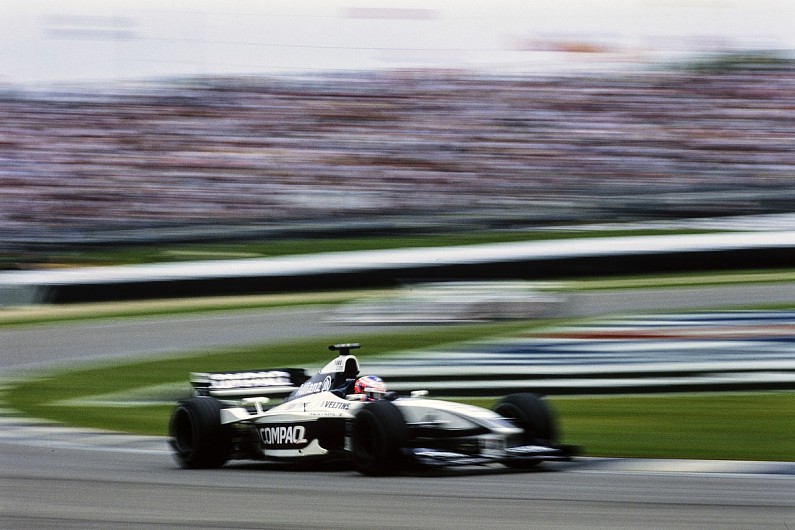 [ad_2]

SOURCE NEWS