Floersch: "Too early" to give up on single-seaters | F3 News
[ad_1]

Formula 3 racer Sophia Floersch says it's "too early" to turn her back on single-seaters and hopes to repeat parallel F3 and LMP2 programmes next year.
The 20-year-old German recorded a best finish of 12th with Campos in F3 this year, having graduated from the Formula Regional European Championship that replaced the former FIA European F3 Championship.
Floersch was also selected as part of the all-female Richard Mille Racing LMP2 squad, but clashes between the reshuffled F3 and European Le Mans Series calendars meant she only managed to contest three of the five rounds in the latter, and also missed the Spa F3 round to race in the ELMS.
She also made her debut in the Le Mans 24 Hours with the Richard Mille team, finishing ninth in class alongside fellow rookies Tatiana Calderon and Beitske Visser.
However, Floersch is keen not to give up on single-seaters and is optimistic of securing a deal to remain on the F3 grid alongside a return to the Signatech-run Richard Mille outfit next year.
"Of course endurance will always be an option for me, but I'm still pretty young and I think to close the book of single-seaters already is still too early," she told Autosport.
"There is nothing signed yet, but I'm still going to try and do the double programme probably again next year with F3 and hopefully be a part of Richard Mille Racing again next season. I'm not going to close single-seaters yet."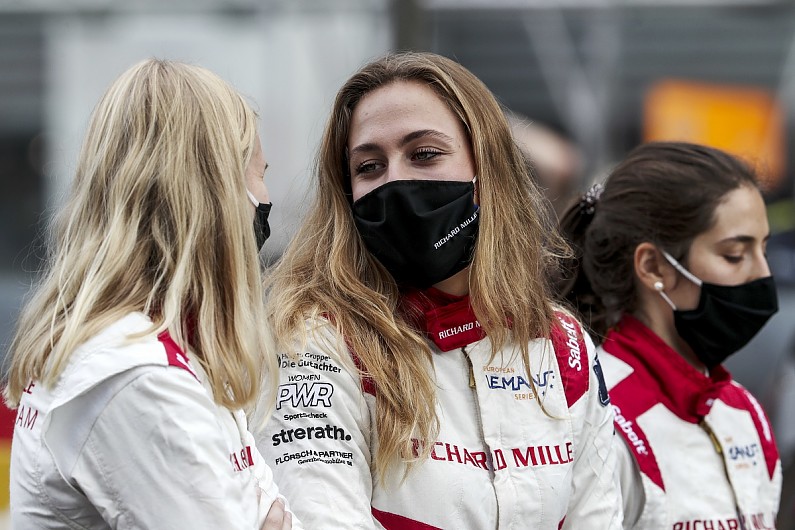 Floersch explained that she had enjoyed her "super-fun" experience of Le Mans in the ORECA 07-Gibson and was surprised by its performance compared to F3.
"To be honest the difference between the F3 and the LMP2 car isn't that big, both cars have a lot of downforce and they are driving style-wise pretty similar," she said.
"Endurance racing I always thought was a little bit more functional because they tell you to look after your tyres, they tell you to do fuel management so I thought that during the race you have to keep it a little bit more chilled.
"But it's super different, you push every single lap so that's super-cool because you're running on the limit the whole time.
"In formulas you do 30 minutes, but still in F3 you have to look after your tyres like hell.
"In endurance they go off yes, but they go off over a longer period of time because you double stint or triple stint them. It's a different way of racing but still you're pushing every single lap 100% because of traffic."
[ad_2]

SOURCE NEWS