Binotto: Improvements in Ferrari form show further gains possible in 2021 – F1
[ad_1]

Ferrari Formula 1 team principal Mattia Binotto says his outfit's recent uplift in form at the Turkish GP is an encouraging sign that it can make further progress in 2021.
The Italian squad faced a difficult start to this season, with its SF1000 down on power compared to last year and its chassis lacking aero efficiency.
It has launched a two-probe attack in its bid to return to competitiveness, readying an all-new engine that will break cover in 2021 at its Maranello factory, and also focusing on changes to address its aero weaknesses.
These changes heralded a first podium of the season for Sebastian Vettel in Turkey, just ahead of team-mate Charles Leclerc, which meant Ferrari scored more points than any other team and closed to 24 points of third-placed Racing Point.
PLUS: Was Leclerc too hard on himself after his late Turkish GP mistake?
Binotto, who elected to work remotely from Maranello rather than travel to Turkey, believes that Ferrari's recent improvement proves that it can eke more speed out of its current car, even though F1's chassis rules are frozen into 2021.
"It's obviously very important for Ferrari doing well at the moment," he said.
"We know that we have improved the car and, if you look at the last races, we improved our position in the race.
"I think the car has become more consistent and the car has become a bit faster.
"So it's great, at least, to have those results, it's great for next year. It's great looking ahead as well to the next races.
"As well in terms of constructor positions, it's not the end of the championship, so it's encouraging.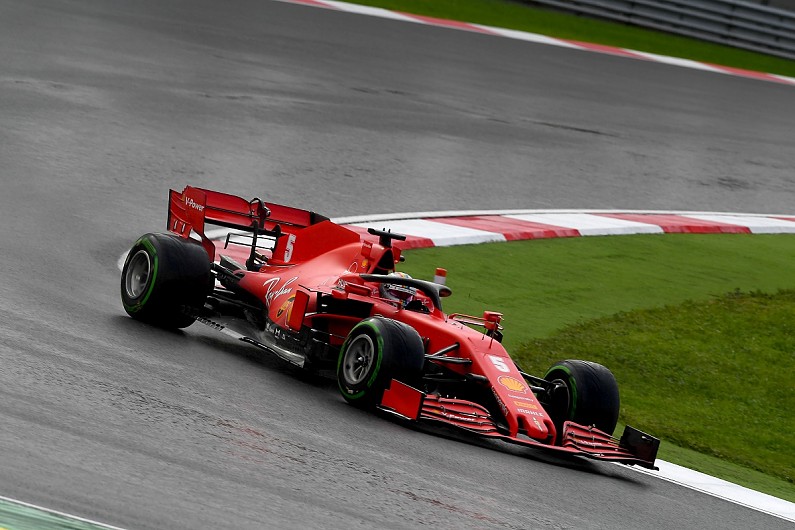 "The people are working hard back at home trying to understand the weaknesses of the car and trying to address them. And especially, as we are preparing for next season, those results somehow are encouraging ourselves."
But although the Turkey result has pointed to Ferrari performance gains, there remains some caution that the team's form at Istanbul was flattered by the tricky track conditions.
The low-grip asphalt in the dry, plus the rain that marred running on Saturday and Sunday, meant the form book was slightly different to a more normal dry weekend.
Vettel believed that Turkey put more emphasis on driver ability than when things are dry and car performance becomes more important again.
"I think the truth is that you have more ability to make a difference in those conditions, because it's so slippery and so much on edge," he said.
"You're still depending on if you get the tyres in the right window, and how the car works. But let's say there's more room for yourself to be expressed."
Autosport has produced a standalone special magazine to celebrate our 70th birthday. All current print subscribers will receive a copy for free. To order your copy of the 196-page Autosport 70th Anniversary issue, please go to: autosport.com/autosport70th
[ad_2]

SOURCE NEWS