The Undertaker Retires from WWE After 30 Years with Fire, Explosions & Hologram!
[ad_1]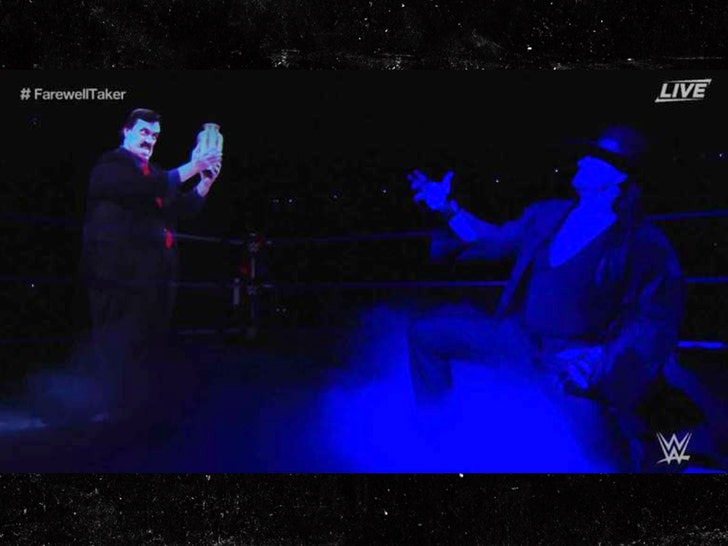 Breaking News
After 3 decades, it was the final bell for The Undertaker at WWE's Survivor Series on Sunday night — and the final sendoff was killer.
Vince McMahon appeared in the center of the ring to announce The Dead Man one last time … and he was clearly emotional about it.
"Tonight marks the end of an era," McMahon said … "An end of an era of the most storied career in history, it'll never be duplicated."
He continued, "They say nothing lasts forever. I think they're wrong — because the legacy of The Undertaker will live on eternally!"
That's when the lights went dim and fire began to explode all over the arena — a dramatic setting for Taker's final ring walk.
Once he got in the ring, Taker — real name Mark Calaway — only said a few words, but he made 'em count.
"My time has come to let The Undertaker Rest. In. Peace."
That's when a hologram of Taker's former manager, Paul Bearer, appeared.
Bearer — real name Bill Moody — passed away back in 2013.
It was a nice tribute to both Taker's career — and a show of respect for Moody, who played a pivotal role in shaping Taker's character back in the day.
After the show, several WWE superstars paid respect to Taker on social media.
The Rock — "30yrs ago today, he made his iconic #SurvivorSeries debut. Like EVERYONE – I was in awe as a rookie in the @WWE when his first words pierced my soul as he walked in the dressing room and said, "Muthaf**ka" True story! Honored to share the ring w you, my brother. #ThankYouTaker
Shawn Michaels — "We've faced each other in every type of match and created some of the most special moments in my career. Standing across the ring from @undertaker was always a daunting experience but I'm excited to hear the gong toll one last time. #FarewellTaker"


[ad_2]

SOURCE NEWS